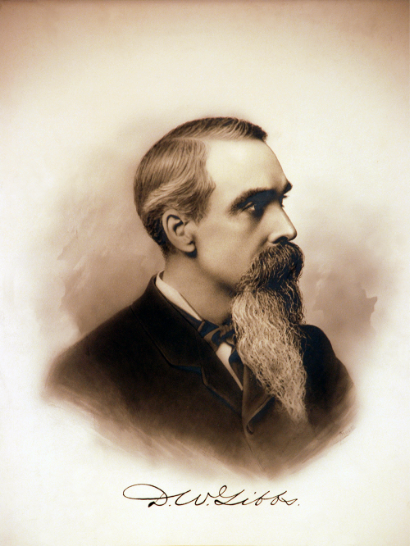 The Opera Block & Empire Block buildings were designed by architect David William Gibbs, and were constructed in the spring of 1880.
David Gibbs was from Toledo, and was a prominent and prolific architect of the era, designing the Butler, Fayette, Marion, Union and Henry Courthouses in Ohio, as well as the Ionia Courthouse and Courthouse Square Museum in Michigan. His crowning achievement was the design of the Wyoming State Capitol in 1887.
A Grand Opera house once stood behind the current Opera Block and Empire Block buildings, offering performances by some of the biggest names of the time. The The Chicago and Pittsburgh Symphonies once entertained the Bellefontaine community in the Grand Opera House, as well as John Phillip Sousa, Buffalo Bill Cody, Kollar and Herman and the infamous Harry Houdini.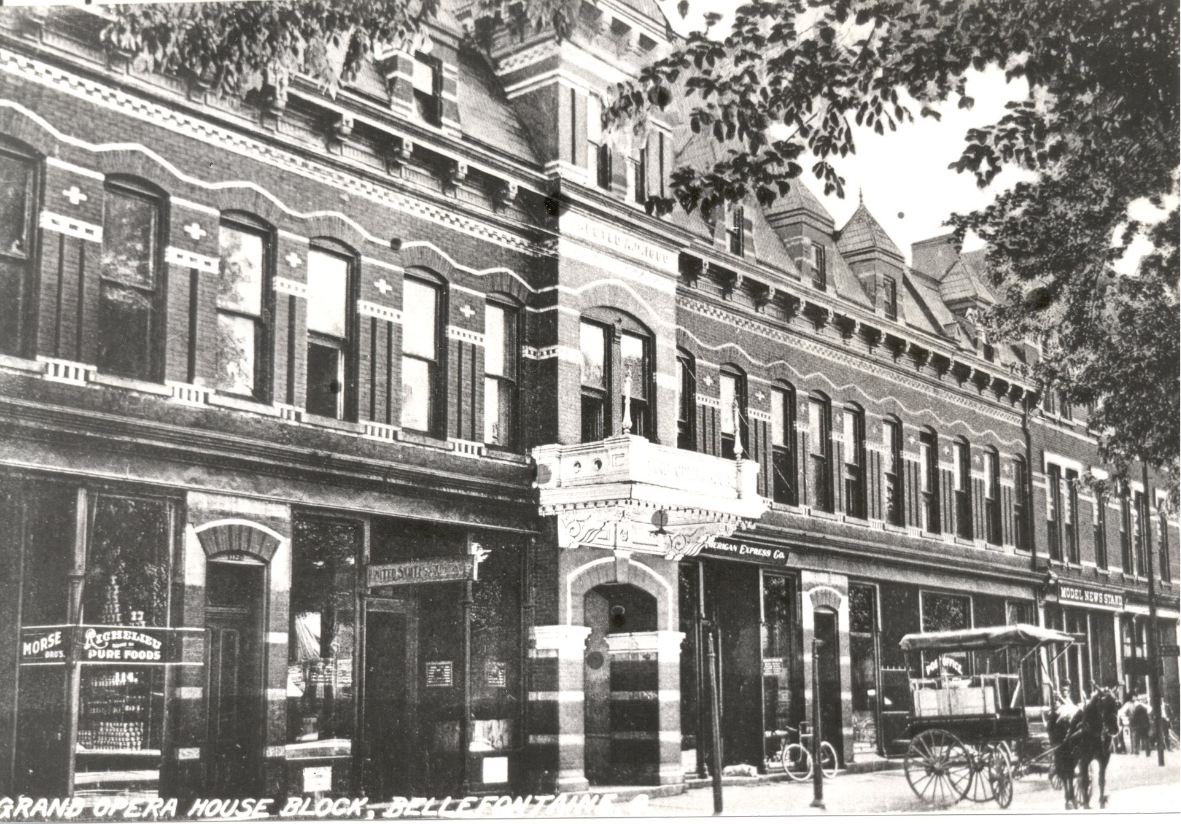 The Opera House was 59′ x 95′, with a 30′ x 52′ stage, seating an audience of 956 on folding grand opera chairs by C. E. Dickinson & Co. There were four dressing rooms available for entertainers.
The theater was entered from the north side, on Court street. Performance attendees would walk down the hall that was filled with light gray decorations, and hanging brass light fixtures from the ceiling. Along the side walls were photos and lithographs of famous actors and actresses and plays. At the end of the hall was the box office, managed by George Brandon. After purchasing the tickets, one proceeded left to be seated on the main floor or right to be seated in the balcony.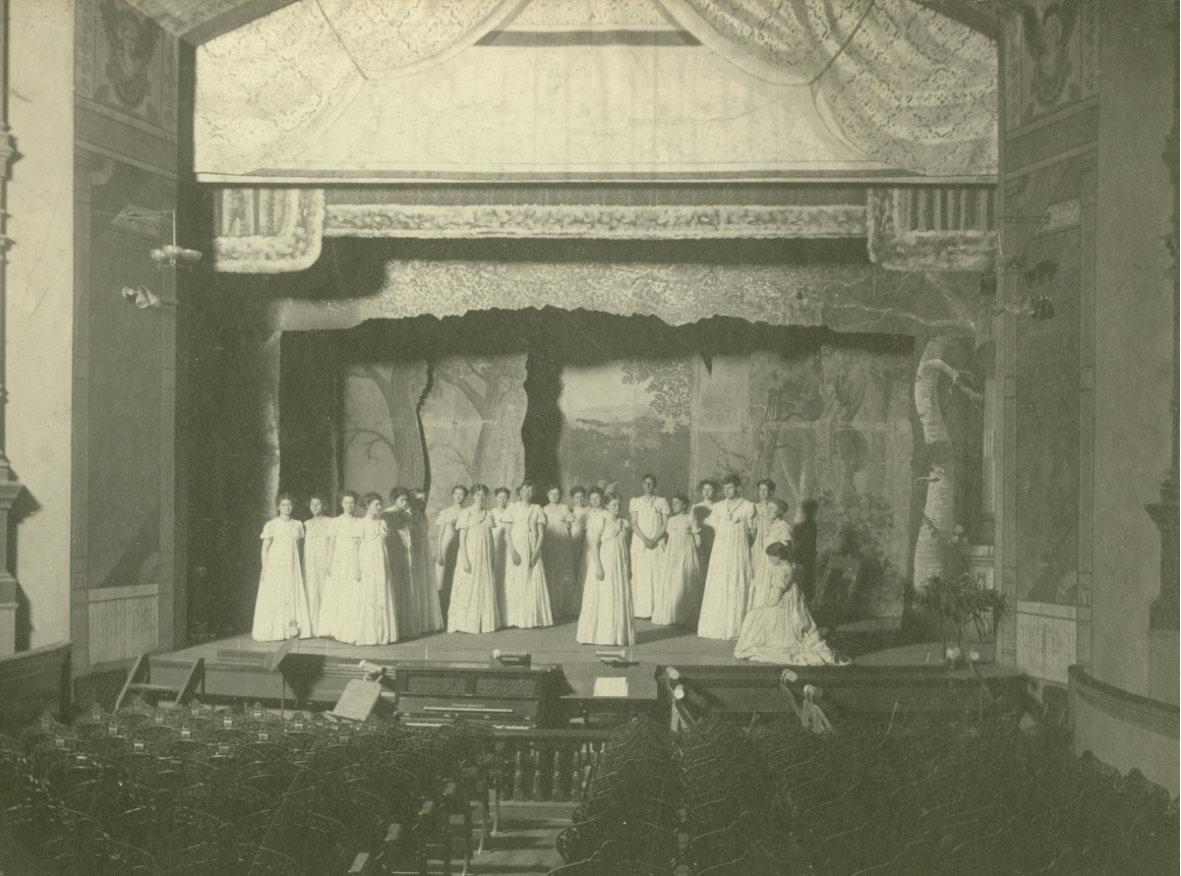 The first performance at The Grand Opera House was December 23, 1880, and it continued operations for 33 years, closing its doors in 1913. It remained empty for four years until 1917 when Dan Gutilla bought the building and turned it into a movie theater.

The Opera House played silent movies until 1930, when Harry Miller converted the theater for sound movies and renamed it the Court Theater. Unfortunately the movie theater didn't last because of poor sound and unfavorable conditions. The theater was torn down in 1956.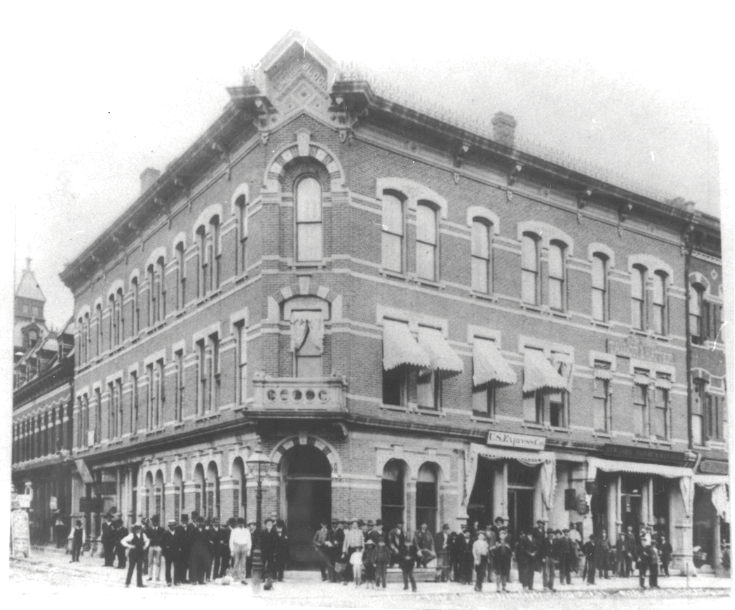 The Opera Block and Empire Block buildings was purchased by Small Nation in March 2021. This block has housed many merchants throughout the years, bringing everything from groceries and dry goods to the post office, the news stand, retail, and furniture to the community. We plan to honor the great history of this iconic building by fully restoring it to its former glory, preserving the architectural elements of the past while updating the elements that are important to its continued longevity.

We look forward to bringing the next generation of merchants to downtown Bellefontaine at The Opera Block, and continuing its history for another 100 years.